HYDERABAD: Bigg Boss Telugu Season 3 title winner Rahul Sipligung has insulted the rumoured  season 4 title winner Abhijeet and had also named the top two contestants based on the performance in the house.
 Bigg Boss 3 winner Rahul Sipligunj, who is interviewing the all the eliminated contestants of Bigg Boss show, so he might have a good knowledge over the master strategies of Big Boss makers and there are quiet pretty chances that his prediction might come true in case of Bigg Boss Telugu 4 title winner. In an earlier interview given to a web media channel there, Rahul Sipligunj shared a few things about the current season and he even predicted the title winner of this season as Abhijeet, and even Punarnavi said that Abhijeet might become the title winner.
 But all of a sudden Rahul took a U turn over his decision of supporting Abhijeet and named Ariyana and Sohel as the contestants who deserves to be in the top two finalist race. Rahul has took too his Instagram handle and shared a post that puzzled everyone, Rahul wrote that " I want to see this both as top 2 basing on their performance and genunity".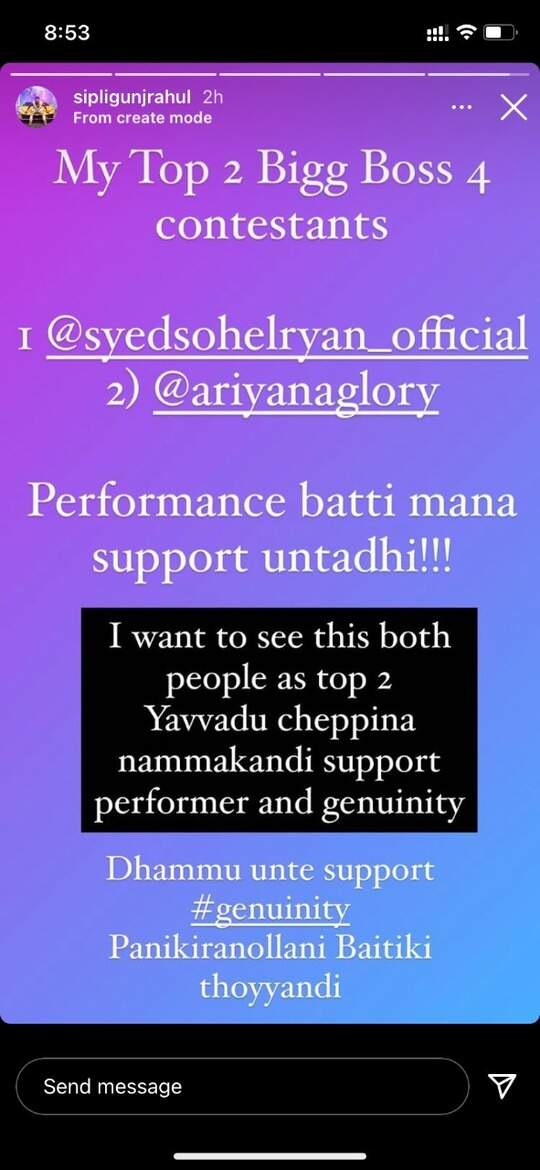 Rahul also requested everyone to vote them and eliminate weak contestants. Abhijeet fans were angry at Rahul sipligunj as he has in directly insulted Abhijeet by withdrawing his support. Buzz is that Rahul might be aware of Bigg Boss makers plan over the title winner and has shifted his loyalty from Abhijeet to Sohel and Ariyana.
Meanwhile the Bigg Boss Telugu Season 4completed 88 episodes and is inching towards finale and only few days are left for this season to end as grand finale is scheduled to be held on December 20. If you take a look, there will be only seven strong contestants in the house and five contestants have been nominated for this week's eviction.
As per the latest Buzz on social media Harika and Avinash are lagging behind Akhil, Monal and Abhijeet in terms of audience poll. So either Harika or Avinash might leave the Bigg Boss house this week.