HYDERABAD: Megastar Chiranjeevi on Monday announced that he has been tested positive for the coronavirus. Megastar Chiranjeevi  who had undergone coronavirus test as a protocol before joining the shoot of Acharya tested positive for COVID-19. Chiranjeevi took to his official twitter account and announced that he is infected with coronavirus and asked all his fans not to worry and said that he is asymptomatic and now self quarantining at home in Hyderabad. Chiranjeevi requested all the persons who met him in the past five days to undergo coronavirus tests.
But just two days ago, Chiranjeevi and Nagarjuna met Telangana Chief Minister K.Chandrasekhar Rao and they have given a cheque to Chief Minister as a donation to the CM Relief Fund in the wake of floods in Hyderabad. Chiranjeevi and Nagarjuna kept a proposal infront of CM KCR on setting up a film city in Hyderabad. Chiranjeevi had met the host of Bigg Boss Telugu 4 Nagarjuna, so Nagarjuna is at high risk for coronavirus. Nagarjuna also should go for the COVID test as he met Chiranjeevi in last week.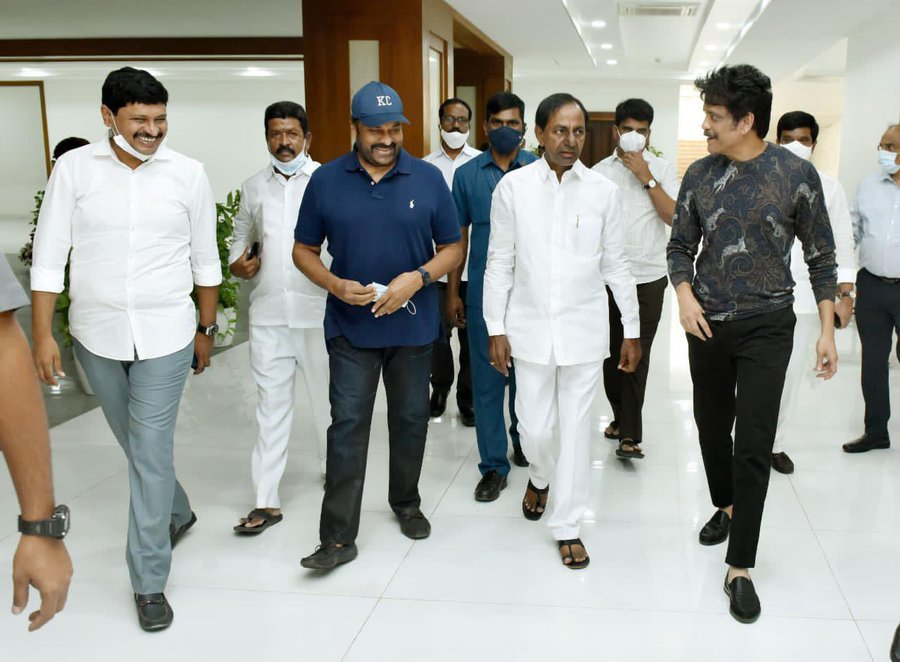 Nagarjuna is seen not wearing any mask during his meeting with Chiranjeevi and CM KCR so there are quiet chances for Nagarjuna to get infected with coronavirus. If Nagarjuna tested positive for coronavirus, then Bigg Boss staff along with contestants might have got infected with coronavirus as he had recently sent Diwali special gifts to Monal Amma Rajashekar by touching them in Sunday's episode of Bigg Boss Telugu 4.
The show organizers are trying a lot to impress the audience by bringing a variety of guests to the show to fetch good TRPs ratings.  It's very hard to predict the Diwali episode of Bigg Boss Telugu. Apparently, we may witness another special host this weekend. Nagarjuna is likely to self isolate for a few days until he doesn't develop any symptoms. Though Nagarjuna doesn't meet the contestants but it could be a problem to the Bigg Boss crew. Let's wait and watch.
So if Nagarjuna tested positive for coronavirus then anchor Suma also might get infected as he had met Nagarjuna in Sunday's episode and she is also not wearing a mask. This becomes a big headache to Bigg Boss makers.